Supermarket news
Moving Art Initiative F.L.O.A.T from Amsterdam (NL) aims to shed light on the underrepresented artist, as part of a quest to share artistic contributions otherwise not available for the broader audience in Europe and beyond. We talked to them about their nomadic existence, questioning comfort zones and their vision for the future.
F.L.O.A.T is an artists' initiative, in constant movement, presenting each new exhibition from place to place – tell us more about your experiences! F.L.O.A.T's exhibitions always start with a thought, a word, a line, a title, a work of an artist, a work of a non-artist, or an exhibition space. We collect different pieces of art works and ideas, with the purpose of combining them into one flow of pieces – one exhibition – one thought. To realise such a thought fully, each time we find a different, appropriate or inappropriate space, where we construct the idea in physical dimensions. We always confront ourselves with possibilities and impossibilities, with the goal to make exhibitions in empty spaces or spaces run by other art platforms. We believe thoughts can always be adapted to any space and any audience, whether present or absent. Everywhere, there are different policies, drives and limitations that we like, and also dislike, to challenge.
What will you showcase at Supermarket 2017?
A person's role, in all its complexities, is never certain or stable. Acting and manifesting itself in a particular way, it traces the relationships that individual has with their social and physical environment. Somewhere between the human's outer and inner conditions, a space of unfamiliarity opens up; a place where we wonder.
At Supermarket, F.L.O.A.T. will show a video installation which questions the comfort zones of bureaucratic environment and gestural procedures. In video works, in seemingly improvised situations, sets of unpredictable movements are rigorously repeated in continuous circles, bringing forward the absurdities and tragicomic aspects of a human slapstick.
Do you have a vision for the future? Where will F.L.O.A.T be in 5 years?
So far, F.L.O.A.T has existed for 2 years and we want to keep open in which form will it develop. As times are changing, F.L.O.A.T is floating with the time.
Photo credit: Moving Art Initiative F.L.O.A.T
Photo credit: Moving Art Initiative F.L.O.A.T
Photo credit: Moving Art Initiative F.L.O.A.T
Artists' initiative Club Solo based in Breda, Netherlands presents solo exhibitions of leading artists, as their name already suggests. The solo artists are given total freedom to express their artistic perspectives in the exhibitions, which are further accompanied by curatorial contributions from two partner museums– Van Abbemuseum in Eindhoven (NL) and the Museum of Contemporary Art in Antwerp (BE). We spoke to one of the core members, Lorelinde Verhees, about the space's main concepts, innovating the artist-run scene and the intimacy of reading.
Tell us shortly about Club Solo's main concept and its initiatives!
Club Solo is an artist-run initiative based in Breda, Netherlands, presenting solo exhibitions by Dutch artists. Curators of the Van Abbemuseum, Eindhoven, and the Museum of Contemporary Art, Antwerp, respond to the work of each artist by adding a specific contribution from their collection to the exhibition. Additionally, a catalogue is published to accompany each of the shows. Club Solo acts as a host to foreign artist-run initiatives under the name of Hotel Solo. They present their own program and thus provide insight into their processes and foundational principles. Café Solo offers a platform for small presentations, such as musical performances, poetry evenings, lectures, and film screenings.
What will you bring and contribute with to SUPERMARKET 2017?
We will present work by Pim Tieland (1988, NL). Tieland recently turned to sculpting in search of a form of work analogue to his own body and inspired by medieval illustrations of the story of Pygmalion; recognising the desire-driven and physical approach displayed by the mythological Greek sculptor towards the creation he fell in love with. For his latest works – depicting figures in an upside down movement or pose - Tieland takes a similar process of animation and adoration as his starting point, reflecting on the relation between the maker and the work as an interaction between a body and a body. Recognising love and desire as activating forces, able to push the boundaries of the self, he sees his working process as a dialogue between projections of his own desires and the realm and artistic behaviour that the sculpture seduces him to work with. In response to Pim Tieland's work, the M HKA will select a piece from their collection to exhibit during Supermarket.
Can you recall a specifically intimate moment in connection to art? Perhaps an exhibition or a certain piece?
What I have always found a fascinating intimate experience is to read. Transported into another world, I feel very close to the writer and the world he or she conjures up complemented with my own fantasy and images. This can become a collaborative and intimate moment. Ben Lerners' Leaving Atocha Station is one of my favourite novels. A young American poet lives in Madrid for a year to research and make new work on a prestigious scholarship.
He finds himself in the Prado every morning to study Rogier van der Weijdens' The Descent From the Cross. Until one morning another visitor seems to have a profound artistic experience in front of this painting. He starts to think about his fear of not being able to have a profound artistic experience himself; or whether it is possible all together; and what it means for his poetry. The book is a highly enjoyable love affair with language, art, fact, fiction, and ultimately of the possibility of a profound engagement with art and life.
Visit Club Solo here, or at Supermarket Art Fair!
Photo credit: Sarah Fisher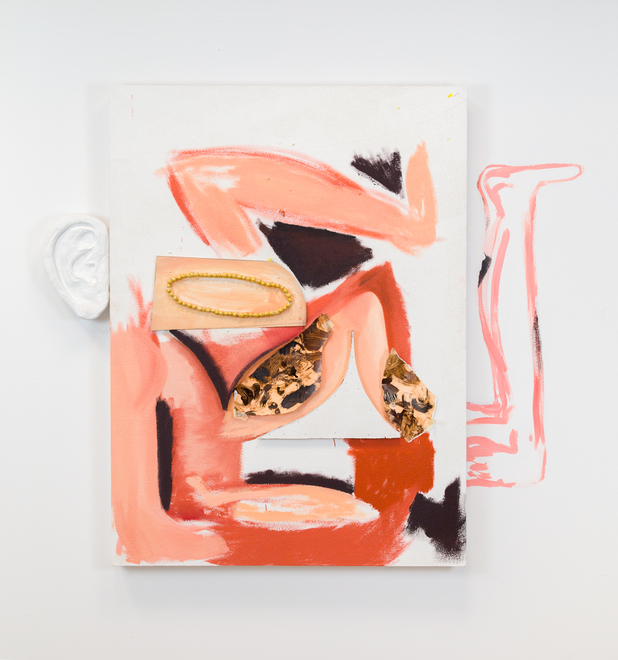 Photo credit: Club Solo
Photo credit: Club Solo
STROBOSKOP ART SPACE is an exhibition space located in a row of old car garages connected to a residential area in Warsaw. Curious about their initiative, we took the opportunity to ask the founders Franciszek Buchner and Norbert Delman a few questions on the current situation of artists' initiatives in Poland, as well as their take on this year's theme of intimacy.
STROBOSKOP is an experimental space set to promote various polarised artistic contributions as a means to fill in the gap between public institutions and private galleries in modern Poland. What is your recipe in doing so? And what are some of the challenges?
We believe in initiating grassroots projects and – above all – offering young artists a space in which they can experiment, try different solutions and learn. We also aim to invite foreign artists. Our dream is to create a window for art outside of Poland that will refresh the local scene. Funding is definitely a challenge – at the moment Stroboskop is funded solely by us, and we do not run any projects that are funded by the city or state.

What do you plan to exhibit at Supermarket 2017?
For the upcoming edition of Supermarket, Stroboskop will exhibit works by us, the founders of the space, as opposed to representing another artist – something that normally cannot be seen on site in Warsaw.
This year's theme is Intimacy. Can you recall a specifically intimate moment in connection to art? Perhaps an exhibition or a certain art piece?
Public appearances are by definition devoid of intimacy. A work of art, however, is the essence of intimacy, a strange construct made of thoughts, instincts, and experiences. The very atmosphere of an exhibition is, nonetheless, an experience that is as intimate as it is public, and it creates an extremely interesting moment. I try to approach each exhibition as if it were a private, eye-to-eye conversation, and there are certain ones we will remember for the rest of our lives.
Visit STROBOSKOPS webpage here for more info!
Photo credit: STROBOSKOP
Photo credit: STROBOSKOP
CODE ROOD from Arnhem, Netherlands is an artists' initiative situated in a former military base in the forests north of Arnhem – now turned into a lively artists' community. We asked them three questions about their upcoming exhibition at Supermarket.
During SUPERMARKET 2017 artist duo Frank & Michiel will present their
project THE CAMEO SERIES, tell us more about that project!
THE CAMEO SERIES is an ongoing project that consists of studio sets in which Frank & Michiel re-enact stereotypical commercial images. During one month artist-in-residence program in 2015 they made new works which are the fundaments of THE CAMEO SERIES. The inspiration for this project comes from television commercials and social media.
In contemporary society we are constantly confronted by media with a reality that exceeds the 'real' reality. It doesn't seem important anymore to distinguish reality from non-reality. Sometimes the virtual experience is more real than the reality itself. This also applies to the way in which people are presented in the media. How they come across is almost as important as the talent and the knowledge they possess. With THE CAMEO SERIES the artists try to deconstruct this 'commercial image' by inviting the visitors into an alternate reality that makes people part of a commercial image.
The visitors are welcome to participate in the project ‒ is this an
important part? And how will this work in practice during the art fair?
Frank & Michiel believe that everybody wonders how it is to be a successful model, singer or actor. Or at least they wonder. People use modern media to project a reality that exceeds the "real" reality; everybody shows their best moments on social media and even the news give a certain perspective on reality. Being aware of this system and its pros and cons comes in handy in daily life. That's why Frank & Michiel decided to reenact successful commercial images; so that we could understand the complexity of the successful images that a company like Gucci creates, and the effects that these images have on daily life. Like, for example, the effect that a lot of people strive towards ‒ being just as famous as Kim Kardashian.
The artists feel that it is important to talk about this subject and therefore think that participation of the visitors is important. During the art fair the visitors are invited on to the set where they can play their role as a Gucci model, take selfies, and create a reality that will maybe exceed the 'real' reality. They are welcome to participate, but it is not necessary for them in order to enjoy the work. What the artists hope to accomplish is a bit of fun, a nice new profile picture for social media and a bit of awareness on how things work.
What are your hopes and expectations for attending SUPERMARKET?
We are really excited by the prospect of sharing THE CAMEO SERIES with a bigger international public and we hope Frank & Michiel can complement the series with a lot of new performances from the SUPERMARKET art fair visitors. When organising our events CODE ROOD acts in a hospitable way, that means cooperations with other initiatives are an important part of our practice. At Supermarket we are looking forward to meet other initiatives and through the presentation of Frank & Michiel get in touch with many visitors.
Photo credit: Frank & Michiel for CODE ROOD
Photo credit: Frank & Michiel for CODE ROOD
This year's first blog post reconnects to one of our returning galleries: Va Space. Regarded by many as an interesting artists' initiative from Isfahan, Iran. We asked founders Mona Aghababaee and Samira Hashemi three quick questions!
In connection to Supermarket 2016 Mona wasn't able to get a visa since she hasn't got any children. Will she apply this time? Last time it stood quite clear that one of the terms was having children, and thereby a strong connection to Iran.
Our priorities in such programs have always been 'collaboration' and 'mutual understanding' and we find both parameters as forces in moving forward steadily and with focused energies. We believe that parenthood and its connotations should not be taken into account while evaluating professional qualifications. If the Swedish embassy were to process visa requests more professionally and carefully, without forcing its employees to come up with superficial justifications and excuses, it would only evaluate the applicant based on their request and its requirements. An artist, curator, arts manager, or any person involved in cultural activities, aims to create dialogs and establish deeper understandings, and would not otherwise apply for a visa in such context. If they were to seek asylum in a Western country, you are fully aware that channels far more effective could be thought of and followed.
Can you tell us a little bit about what you plan to show at Supermarket 2017?
Va in Supermarket 2017 is about the occasion of Va at Supermarket 2016.
This year's theme is Intimacy. Can you recall a specifically intimate art experience?
There were many occasion when a series of works show a narrative like some of the works together create a story that we can connect to.They create dialogs with each other, and the dynamic of that dialogue resembles something in our own life, thus deeply and intimately affecting us.
Photo credit: Va Space
Photo credit: Va Space